Sale!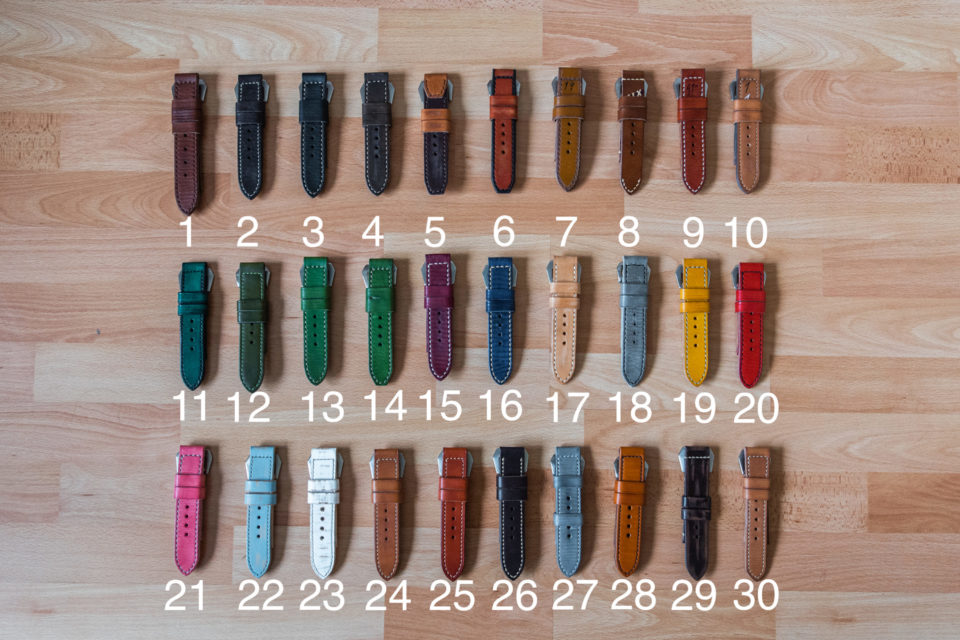 SALE – handmade leather straps
Free shipping Worldwide.
For returns policy check our terms and conditions.
About the strap
For sale are the prototype straps we have used for taking pictures for the website and instagram, all these are the actual straps you can see in the listings. These are unworn, never been mounted on a watch.  They have served their purpose for us now. You can acquire these at a discount price.
Nr1: Decima x 26mm 160/110 GPF style buckle
Nr2: AmmoII 26mm 140/80 GPF style buckle
Nr3: Atero 26mm 140/80 GPF style buckle
Nr4: Dorian (Gray) 26mm 140/80 GPF style buckle
Nr5: SG21 26mm 140/80 GPF style buckle
Nr6: K2 26mm 140/80 Screw in buckle
Nr7: 1984 26mm 140/80 GPF style buckle
Nr8: XIX 26mm 140/80 GPF style buckle
Nr9: 41 26mm 140/80 GPF style buckle
Nr10: Uno 26mm 140/80 GPF style buckle
Nr11: Emerald 26mm 140/80 GPF style buckle
Nr12: Oliva 26mm 140/80 screw in buckle
Nr13: Verde 26mm 140/80 GPF style buckle
NR14: Hulk 26mm 140/80 GPF style buckle
Nr15: Ruby 26mm 140/80 GPF style buckle
Nr16: Denim blue 26mm 140/80 GPF style buckle
Nr17: Naturo 26mm 140/80 GPF style buckle
Nr18: Grigio 26mm 140/80 screw in buckle
Nr19: Mustard yellow 26mm 140/80 GPF style buckle
Nr20: RED 26mm 140/80 GPF style buckle
Nr21: Pink 26mm 140/80 GPF style buckle
Nr22: Azzuro 26mm 140/80 GPF style buckle
Nr23: Albus 26mm 140/80 GPF style buckle
Nr24: Legend 74 26mm 140/80 GPF style buckle
Nr25: Ternio 26mm 140/80 GPF style buckle
Nr26: Ammo 26mm 140/80 GPF style buckle
Nr27: Squadra 26mm 140/80 screw in buckle
Nr28: Pumpkin 26mm 140/80 screw in buckle
Nr29: Kampschwimmer 26mm 140/80 GPF style buckle
Nr30: Legend 74  27-22mm 140/80 GPF style buckle