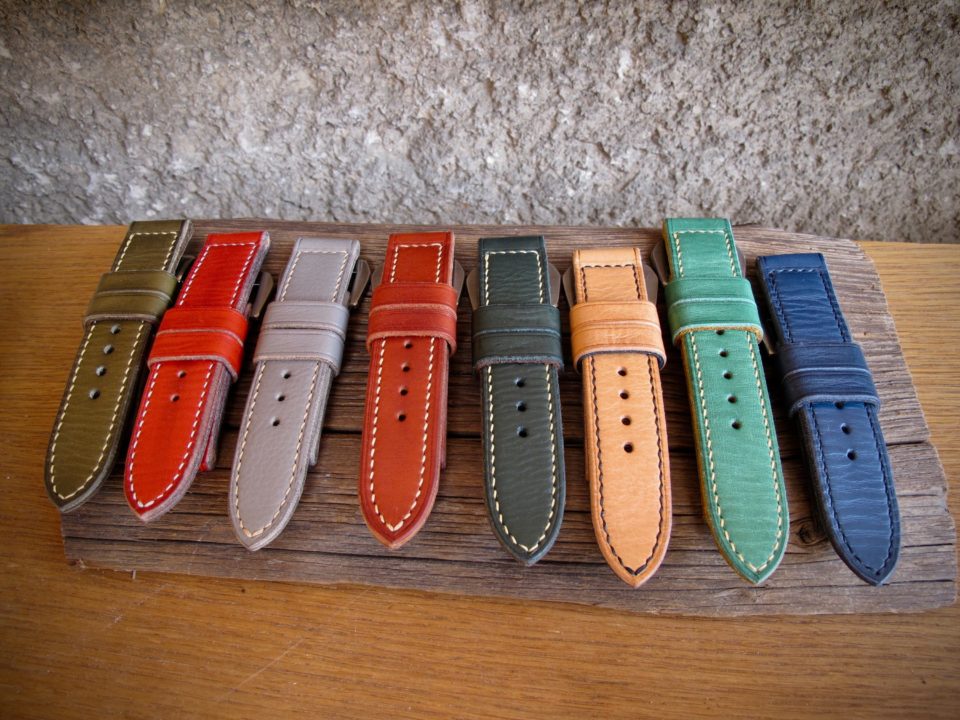 SALE – handmade leather watch straps and jeans belts
€55 – €75
Free shipping Worldwide.
For returns policy check our terms and conditions.
About the strap
For sale are the prototype watch straps and jeans belts I have used for taking pictures for the website and instagram, all these are the actual straps and belts you can see in the listings. These are all unworn, watch straps have never been mounted on a watch.  They have served their purpose for me now. You can acquire these at a discount price.
Nr1: Tundra 26mm 140/80 screw in buckle
Nr2: Rosso scuro  26mm 140/76 new 3mm thick GPF style buckle
Nr3: Grey 26mm 140/80 new 3mm thick GPF style buckle
Nr4: Fieno 26mm 140/80 new 3mm thick GPF style buckle
Nr5: Volanto green 26mm 140/80 new 3mm thick GPF style buckle
Nr6: Volanto nude  26mm 140/80new 3mm thick GPF style buckle
Nr7: Aqua green 26mm 160/110 new 3mm thick GPF style buckle
Nr8: DB One  26mm 140/80 new 3mm thick GPF style buckle
Nr.9  Jeans belt – Natural colour 4mm thick leather with 5mm thick GPF style buckle, for waist size : 84-97cm ( total length of belt 107cm)
Nr.10 Jeans belt – Black colour 4mm thick leather with 5mm thick GPF style buckle, for waist size : 79-91cm ( total length of belt cca.100cm)
Nr.11 74 -old version of my 74 strap  26mm 140/80 screw in buckle
Nr.12 Bianco – 26mm 160/110 new 3mm thick GPF style buckle
Nr.13 Argo – 26mm 140/80 screw in buckle
Worldwide free shipping
dispatch time max. 2 working days