FAQ
How soft are your straps?
In terms of softness / pliability I have 3 main types of leather.
Type 1 :
The softest straps I have are the NeroII, Volanto Black, Volanto Nude, Volanto Green, Rust, LG23, P23, Gray and Grigio II, these straps are very soft.
Type 2 :
The straps : Red II, Rosso Scuro, L74, T-Moro, Uno, DB Two, Cuoio II, Historica, Centurio, Flottiglia, Legend One, Centauro, T 3, Tundra, Naturo II, N 3, Oliva II, Verde II, Orange and Rosso
These are made from my favourite kind of leather, nice and soft, very comfortable to wear.
Type 3 :
M.Y.II, L.B.23, M.B.23, DCX, Foresta.
These straps are firmer in temper, and need some time to break in.
Can your straps be customized?
Yes, I can customize all my straps :
Different size than the sizes in the dropdown menus.
Custom hole spacing in case you do not like the standard one.
Thickness can be customized, I can make the straps thicker or thinner on request.
If you do not like the triple folding on the short part of the strap I can make the strap.
OEM style fold with the same thickness on both parts of the strap and a closed buckle loop.
Different colour of stitching. You can choose from threads in the picture below. I can use any of these threads on any of my straps.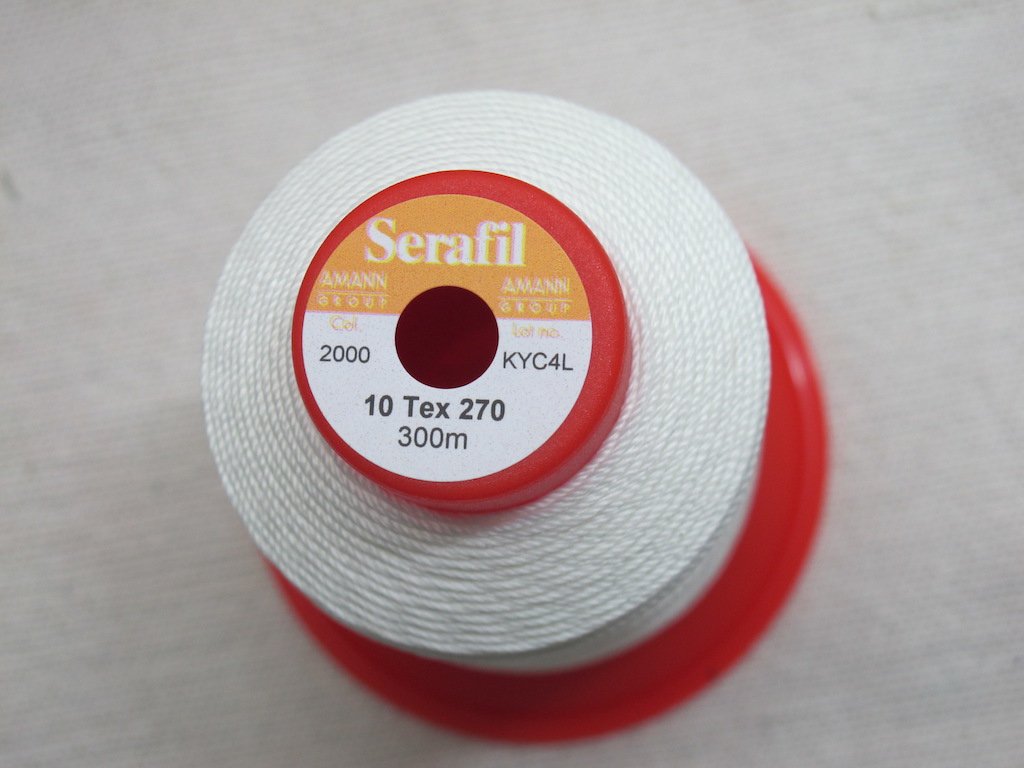 Can you make straps for fixed lug watches?
Yes, I can make any strap from my range as an open ended strap for watches with
fixed lugs. On this type of strap there are hidden rivets (Chicago screws) which are only visible from the underside of the strap.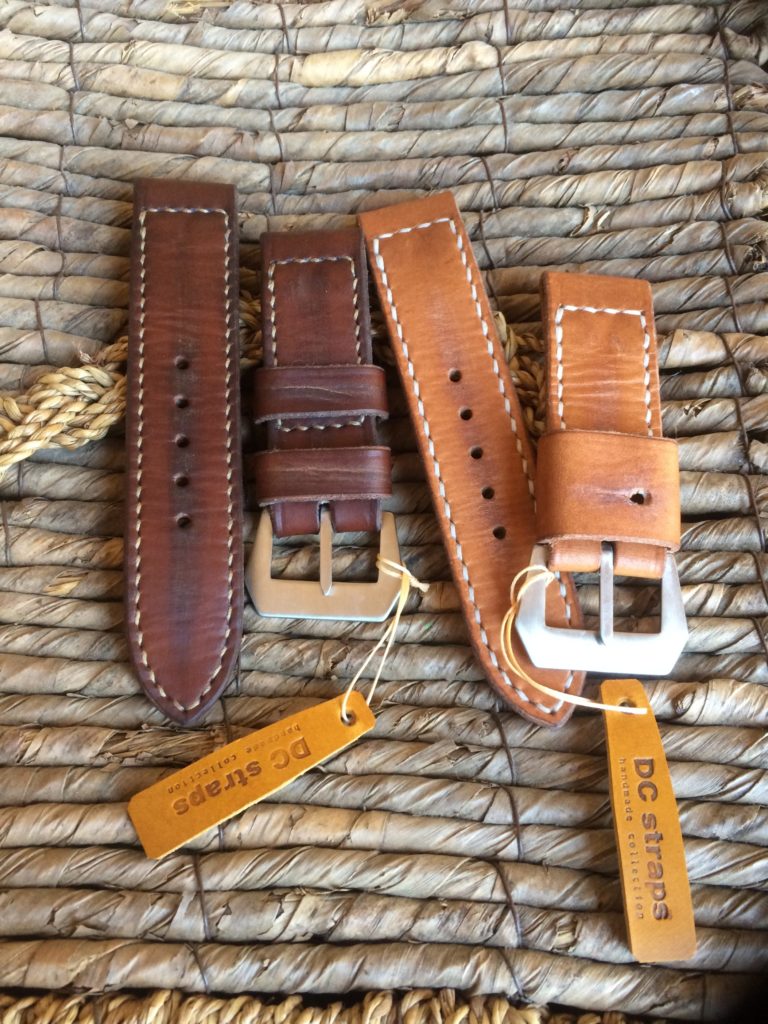 What is the difference between triple fold and OEM fold ?
Straps constructed with the historic triple fold technique have the short part of the
strap thicker due to the leather being folded in three layers. Triple folded straps also
have the buckle and the fixed keeper sitting together in one loop.
OEM fold is a more modern type of strap construction which makes both parts of the strap same thickness, also the fixed keeper and the buckle are placed in separate loops.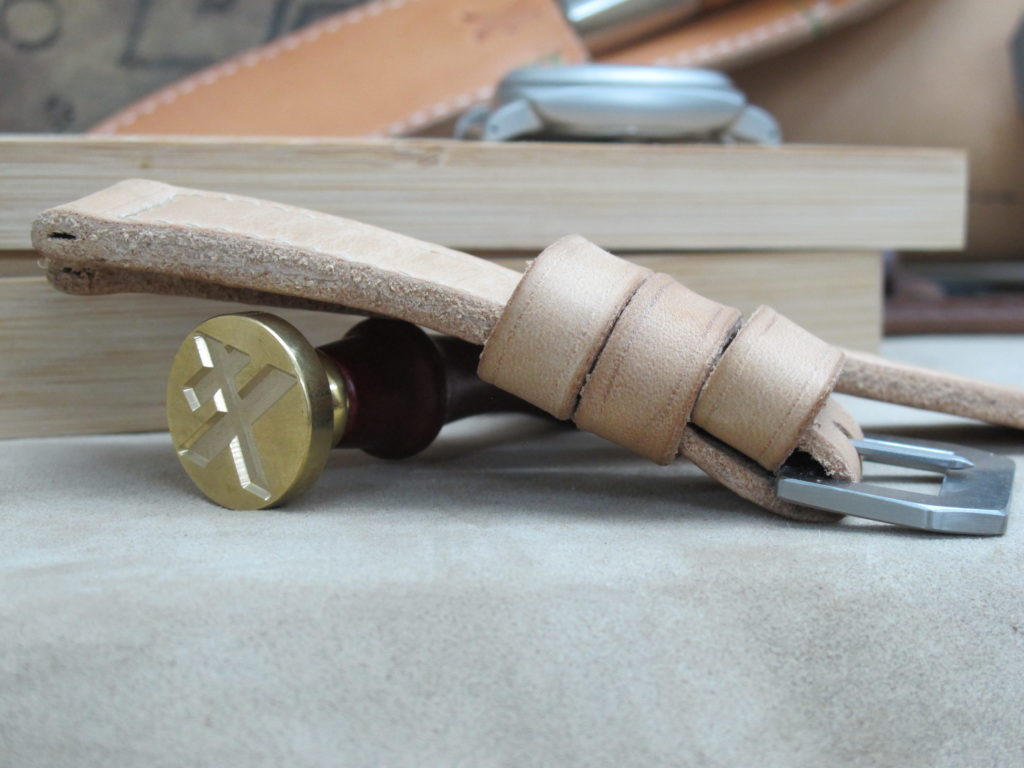 What type of buckles do you offer?
I have two types of buckles, screw in buckles and GPF style sew in buckles.
The screw in buckles are available in 22, 24 and 26mm in brushed stainless steel finish.
The sew in GPF style buckles are my own make, handmade from 3mm thick stainless steel. These are available in sizes 22, 24, 26, 27, 28mm in brushed stainless steel. Sizes 24 and 26mm are also available in gunmetal black DLC.
I also have GPF style sew in belt buckles made from 5mm thick stainless steel , available in 38mm brushed stainless steel and gunmetal black DLC.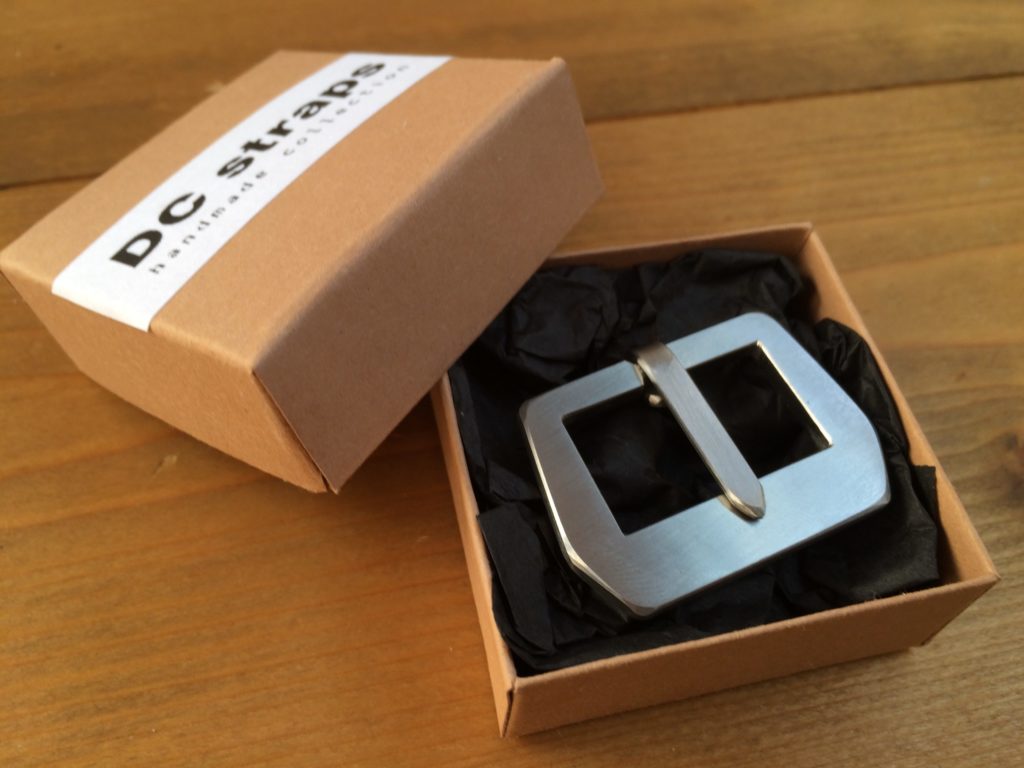 What size are the holes on your straps ?
You can choose from 2 types of hole spacing :
Vintage style spacing – 5 round holes with 3mm diameter and 10mm hole spacing (centre to centre). This spacing is best suited for the sewn in buckles, however the screw in buckle can be used with this spacing too if you prefer round holes.
Modern style spacing– 7 oblong holes 5x2mm and 7mm hole spacing( centre to centre). This spacing is best suited for the screw in buckles.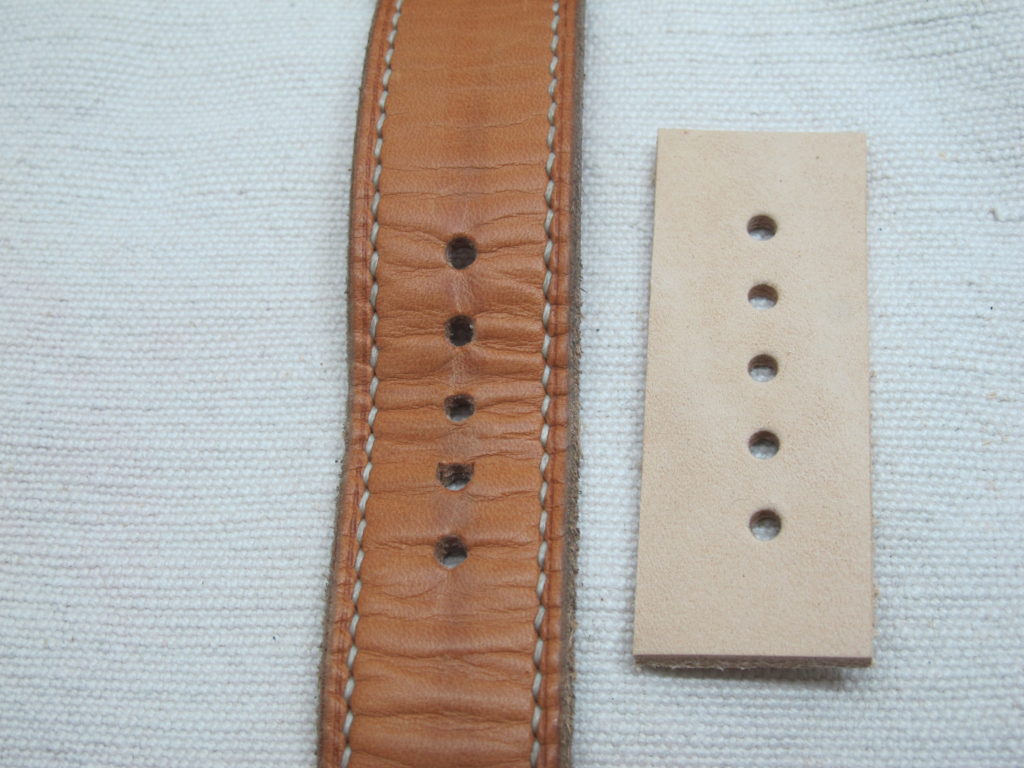 Hole spacing chart:
Length

Distance from lug end
to middle hole

120mm
67mm
125mm
70mm
130mm
72mm
135mm
72mm
140mm
75mm
145mm
77mm
150mm
80mm
155mm
82mm
160mm
85mm
Wrist size chart:
| | | |
| --- | --- | --- |
| Wrist size (mm) | Wrist size (inch) | Strap length (mm) |
| 155/180mm | 6.1/7.1″ | 120/70mm |
| 160/190mm | 6.3/7.5″ | 125/75mm |
| 165/195mm | 6.5/7.7″ | 130/75mm |
| 170/200mm | 6.7/7.9″ | 135/80mm |
| 173/203mm | 6.8/8″ | 140/80mm |
| 180/210mm | 7.1/8.2″ | 145/85mm |
| 188/218mm | 7.4/8.6″ | 150/90mm |
| 200/230mm | 7.9/9″ | 155/100mm |
| 210/240mm | 8.2/9.5″ | 160/110mm |